My 1985 Camaro Is Now For Sale. Asking 4500 OBO. Im located in Garland Texas (right outside of Dallas)

Im thinkin' about parting the car out, so Email me for any prices or offers.

This car has gone under MANY different Combos, with this one being my favorite by FAR. This car was once supercharged as you can tell by the picture to the right. This was when the car was first running and it ran pretty hard for a basic setup with near stock heads ( ran 8.4's @ 85 MPH on street tires in the 1/8th, the blower only made 5 PSI which is why its NOT on the car now, i would never recommend the little roots style to anyone. )
[color=blue]My Camaro

All These Parts Are For Sale If No One Buys The Car Out Right, Email Me For Prices Or Offers :

Current Motor Mods --

Balance And Blue Printed 350 bored .030 (355)
TRW Forged Pistons ~9.5:1 compression
Chevy Powder Rods with ARP Bolts
Stock Steel Crank
Lunati Cam .509 lift 234 duration 112 lobe seperation (Lunati Part #lsk007)
Edlebrock #6089 64cc Aluminum heads with ARP head bolts minor porting..Gasket Matched
Crane 1.5 Silver Roller Rockers
Manley Chromoly Push Rods
Lunati Lifters
StreetDamper Harmonic Fluid Damper (internally balanced)
Cloyes Double Roller Timing Chain
Chrome timing Chain Cover
Edelbrock Performer RPM intake
Holley Zinc 750 Double Pumper
Holley Carb Spacer
Holley Blue Electirc Fuel pump w/ Regulator @ 8 PSI
Top Gun Adjustable Nitrous Kit From 75-150 Plate System.
Hedman Long Tube Headers With Ceramic Coating
True Dual SpinTech Exhaust
Chrome Oil Pan
High Volume Oil Pump
MSD 6A Ignition
MSD Billet Distrubtor
MSD SS Coil
MSD 8.5 Plug Wires
Electric Fan with Temp Switch (automatic)
Edelbrock Aluminum Water Pump
3 Core Heavy Duty Radiator
Edelbrock Air Casing with K&N Filter

Transmission --
Converted to th350 Tranny
2000 Stall
Hardened EVERYTHING POSSIBLE!!
B&M Rachet Shifter

Rearend --
Stock 3.23 Posi (out of a Trans Am)
Converted to 4 wheel Disc Breaks.
8" Welds sitting on 10" Hoosiers

Suspension Mods --
Edleborck Lowering Springs
5 Way Adjustable Koni Drag Struts
3 Way adjustable Competition Engeneering Drag Shocks

Gauges --
Autometer Oil Pressure, And Boost Pressure Gauges
Autometer 5" Monster Tach W/ Pro Warning Light

Cowl hood 4 3/4" Bolt on hood (ive got it pinned on currently)

The Blower Has Been Removed And Pushed off to someone else, sorry for the buyer of that.








Best Mustang Site Around --

DFWSTANGS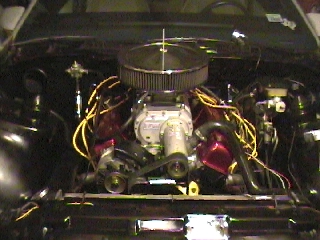 Above - Blown Pic
This is a picture of when i first got the car running with the B&M Blower. (note, this car no longer has the B& Blower.)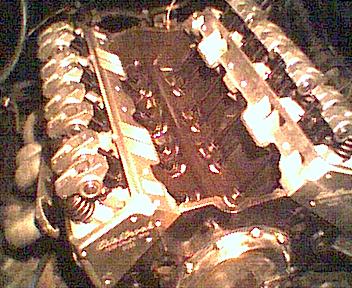 Above - Head Swap

This is a crappy picture of My Edlebrock heads when I had first put them on. You Can See the Crane 1.5 Rollers.

-- Email me --